Captain Marvel hits theaters almost exactly a year from today, and more information about the upcoming movie continues to filter in! Now, thanks to screenwriter Geneva Robertson-Dworet, we have a clearer idea of the tone and direction of the film.
Speaking with Entertainment Weekly, Geneva Robertson-Dworet discussed the comparisons between Captain Marvel and her other upcoming film Tomb Raider, which releases on March 16th. Robertson-Dworet began work on the popular video game adaptation in 2015, long before she was tapped to write the screenplay for her other female heroine: Captain Marvel. Her upcoming Marvel feature will borrow from some of the elements that were present in the initial draft of Tomb Raider. Apparently, it featured Lara Croft as a teenager and was set to have a much more comedic tone. While this was changed when Alicia Vikander signed on to play the character, it was this tone that would later go on to inspire Robertson-Dworet as she wrote the character of Carol Danvers.
"The mandate I got when I first signed on to the project (Tomb Raider) was that we were doing something much more in the tone of a fun action-comedy. My original Lara was very sassy, and then, over the subsequent drafts as Alicia gained more creative control, she wanted it to be much more serious.

That tone survived in Captain Marvel. Captain Marvel has a very funny voice, and it's more of an action-comedy. I love funny female characters, so as Tomb Raider got more serious, I got even more committed to the idea of Captain Marvel being hilarious.

That's not just me inventing that. Carol Danvers is one of the funniest comic book characters. She's so sassy, she's such a smartass, she won't take sh— from anyone, and the comic books do an amazing job at capturing that voice, and it was important that the entire Captain Marvel creative team [kept that]."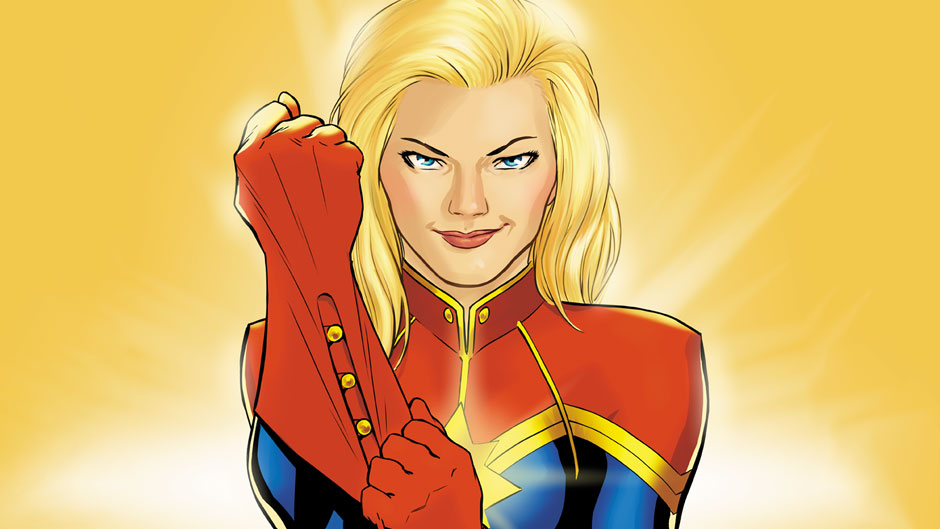 She later goes on to note that the creative team wanted Carol Danvers to stand out as a unique character, and a lot of that process comes from having women as a part of the writing and film-making process. Not only is the script by a female writer, but it is also co-directed by the MCU's first female director, Anna Boden. She is directing the film alongside her Half Nelson and Mississippi Grind co-director Ryan Fleck. According to Geneva Robertson-Dworet, this female team was crucial to creating a multi-faceted and unique hero.
"Certainly we were writing after Wonder Woman had come out. We already saw one example of what a superheroine looked like on screen. So we wanted to carve our own path and make sure we weren't retreading the same territory, and showing all facets of what women are capable of."
Captain Marvel (AKA Carol Danvers) will be played by Brie Larson. We know that the film will involve the shape-shifting alien race of the Skrulls and that it will take place in the 1990's. Samuel L. Jackson is set to return as Nick Fury, however, this will take place before he receives his signature eye-patch. Jude Law will star opposite Larson, and Humans actress Gemma Chan has been announced to be playing Doctor Minerva, a Kree alien geneticist who is a villain in the Captain Marvel comics. The film hits theaters on March 6, 2019.
What are your thoughts? Would you like Carol Danvers to be light-hearted and comedic, or would you prefer a more serious tone? How similar should the characters of Lara Croft and Carol Danvers be? Let's chat below!
Source: Entertainment Weekly