As we get little reveals from the D23 Expo we are going to put them on this thread.  So check back throughout the weekend for the latest news and photos coming from Disney's big weekend.  Anything of significance we will also work up in a proper article.
CHADWICK BOSEMAN AND RYAN COOGLER IN THE HOUSE!
Over the next few weeks, a whole lot of actors and directors should be appearing at the panels between D23 and SDCC.  (Just how big will that Hall H panel be?)  The first appearance of D23 appears to be the two most important players in Black Panther, director Ryan Coogler and T'Challa himself, Chadwick Boseman.
Director Ryan Coogler and @chadwickboseman at the Marvel Studios booth. #BlackPanther #D23Expo pic.twitter.com/TZC8tLEU9w

— Marvel Studios (@MarvelStudios) July 14, 2017
RAGNAROK POSTERS
One of the great give aways for those lucky enough to attend the D23 Expo is the great Thor: Ragnarok poster shown below.  Amazing to see "Planet Hulk" coming to life.
#D23Expo2017 #ThorRagnarok Exclusive Poster painted by @andyparkart pic.twitter.com/f1yPa5uzAR

— SuperBroMovies (@SuperBroMovies) July 14, 2017
LOLA MAKES AN APPEARANCE
D23 Expo isn't just for people and costumes.   Cars can come along for the ride!  Agents of S.H.I.E.L.D.'s infamous Lola and Ghost Rider's Charger were chilling in the parking lot.
Lola! Totally untouchable behind the guard rope. On display outside #D23Expo. #AgentsofSHIELD pic.twitter.com/xcZ6kUv8XO

— Ryan Penagos (@AgentM) July 14, 2017
G'morning y'all! Look who came by to say hi here at #D23Expo! #AgentsofSHIELD @IamGabrielLuna @clarkgregg @FelipeTweeters pic.twitter.com/TTWcUjgHii

— ThatOneNerdRon (@raspiras8) July 14, 2017
THOR IMAGES AND CELESTIA LOOKING COSTUMES!
Thor: Ragnarok is shaping up as one of the most visually exciting films in the history of the MCU!  Check out these great costumes, evoking Jack Kirby at his best.
THOR RAGNAROK: Jack Kirby-esque costumes have been revealed at #D23Expo. pic.twitter.com/dYKuRtk1cH

— DiscussingFilm @ Sundance (@DiscussingFilm) July 14, 2017
New #ThorRagnarok promo art showcasing Thor, Loki, Hulk, Hela, Heimdall, Valkyrie, and the Grandmaster! pic.twitter.com/dVh5i9qk1C

— MCU News & Tweets (@MCU_Tweets) July 14, 2017
BLACK PANTHER COSTUMES
Earlier this week we saw photos from the set of Black Panther in EW.  Now many of those costumes are being shown off in person at the Expo.  They look so cool!
A new photo from @MarvelStudios' D23 Expo set-up indicates that we'll get first looks at props from #AvengersInfinityWar and #BlackPanther! pic.twitter.com/yDBjSbzsW9

— MCU News & Tweets (@MCU_Tweets) July 14, 2017
BANNERS, BANNERS, BANNERS (AND ONE FEATURES BRUCE BANNER)
Throughout the convention center, Disney has hung some various promotional artwork for their upcoming Marvel Studios projects.  Check out these looks at upcoming films!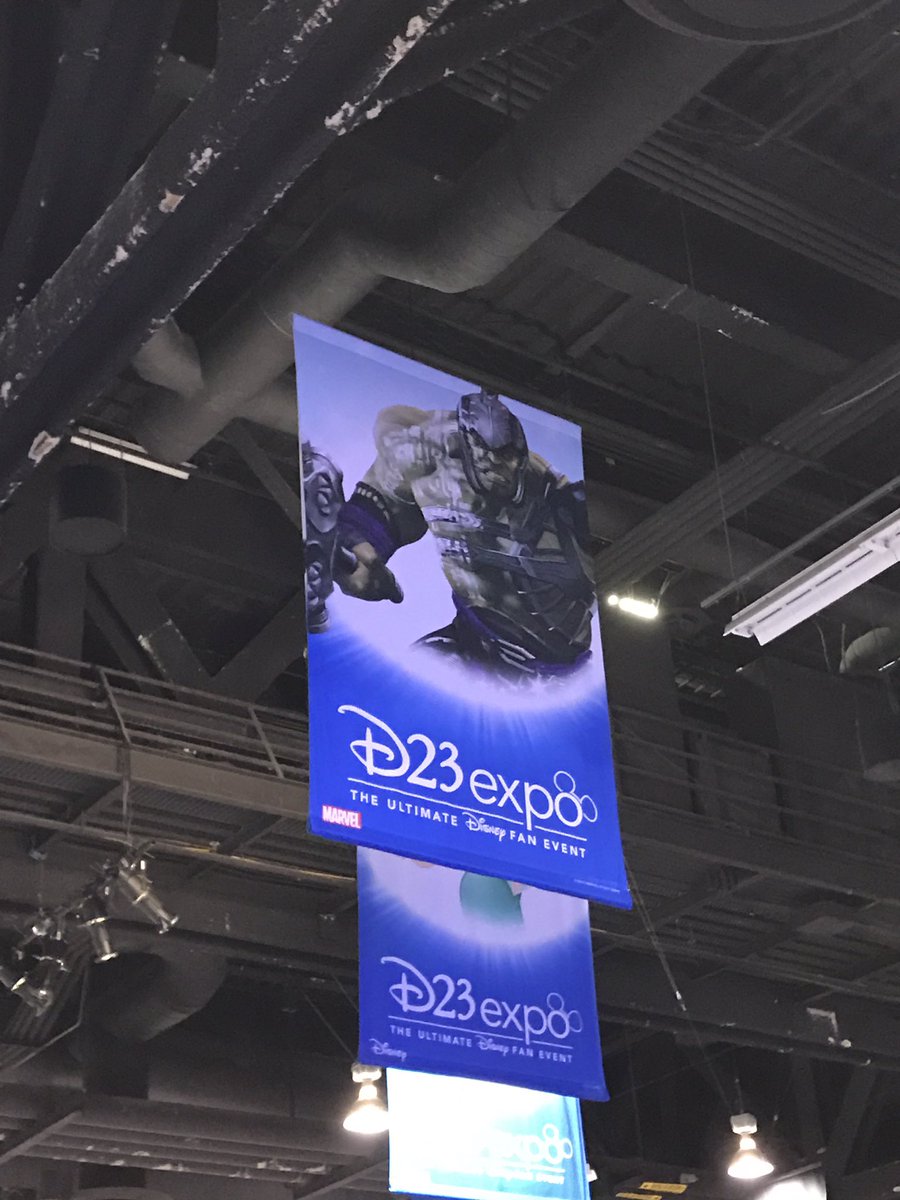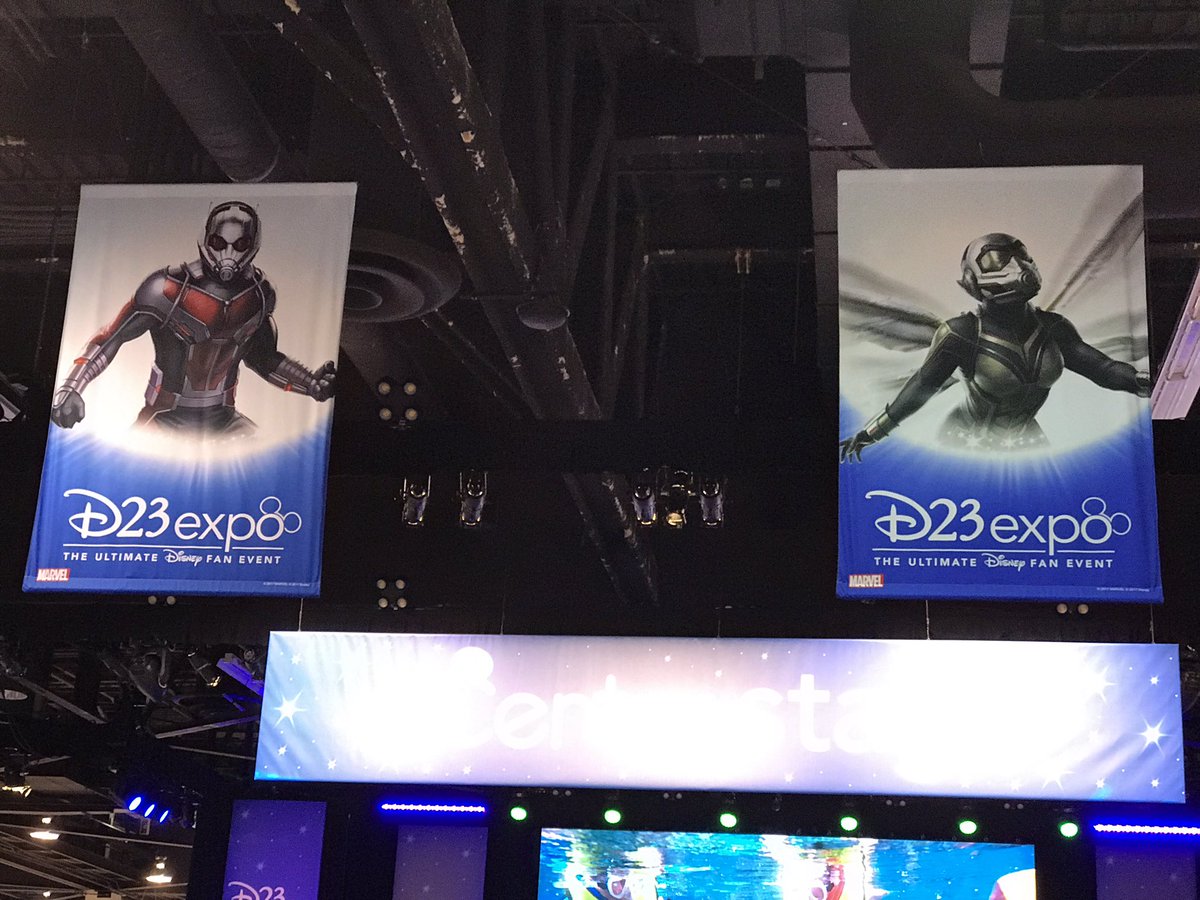 Source: Twitter