Atlanta is a hot spot for celebrities right now, with Spider-Man: Homecoming nearing the end of their filming in Atlanta* and Avengers: Infinity War officially entering pre-production. So it isn't entirely surprising that we're beginning to see a lot of the Marvel Cinematic Universe family make their way to Georgia. Robert Downey Jr., who has been confirmed to appear in Homecoming, has been spotted at several spots in the Georgian capital over the weekend. Recently he tweeted out a photo of himself and many MCU power players enjoying a meal together.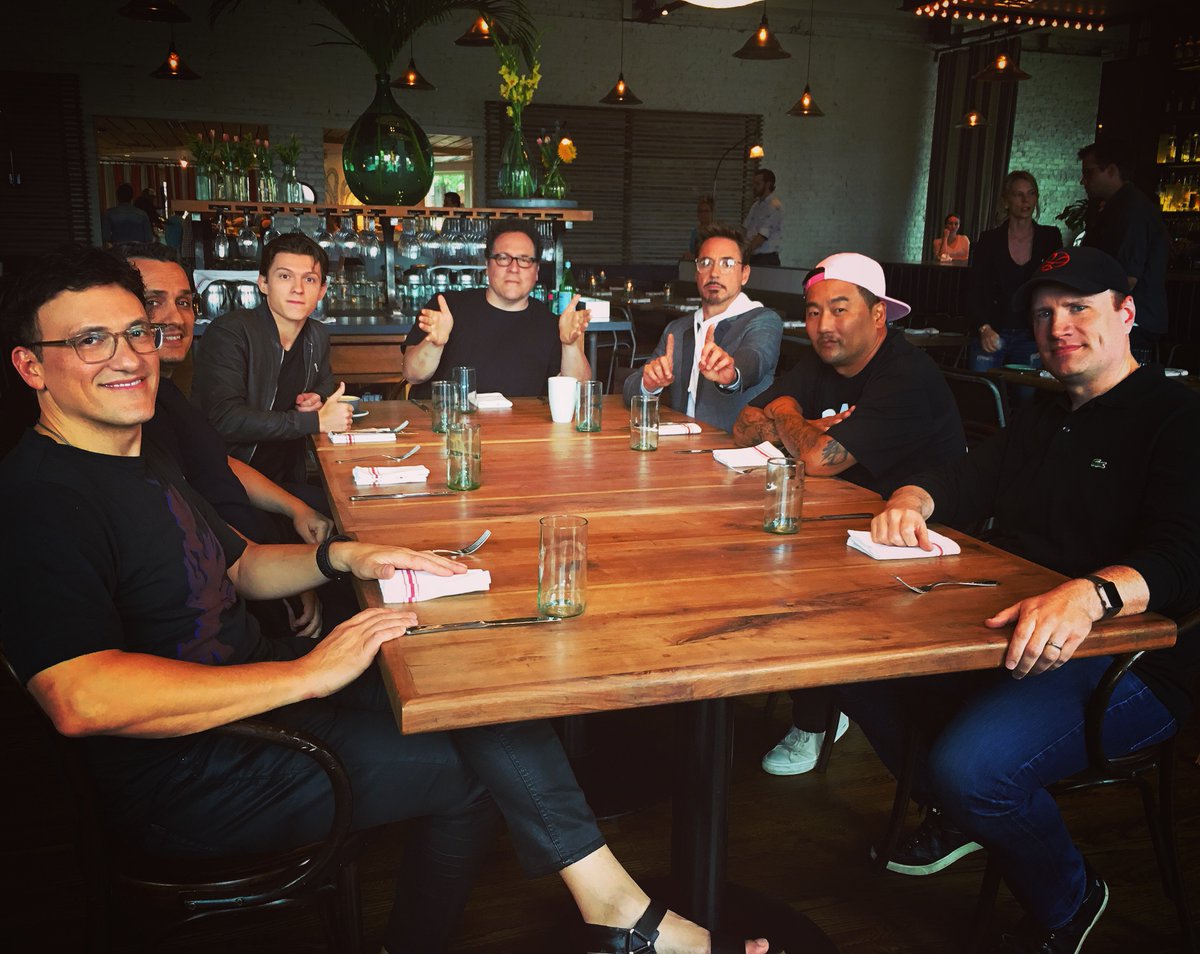 Going around the table in a clockwise direction, that's Anthony Russo, Joe Russo (the directors of Avengers: Infinity War), Tom Holland (Spider-Man), Jon Favreau (director of the first two Iron Man films and frequent MCU producer), RDJ (Iron Man), Roy Choi (famous chef and food truck pioneer), and Kevin Feige (President of Marvel Studios). That's a lot of star power at one table! Choi may seem like the odd man out, but he has a history with Favreau. Jon's 2014 film Chef drew heavily from the life and experiences of Choi.
Atlanta residents also might be on the lookout for Holland at a local dance club. From the looks of things, he has been brushing up on his moves. This video comes via the Instagram account of Spider-Man: Homecoming director Jon Watts, seemingly in response to the Russos' Facebook photo of some mo-cap work.
This is not the first time that Holland has shown off the athleticism that makes him such a good fit for Peter Parker, but the real-time technology of motion capture is also on full display here. While the image is far from film ready, it is amazing how quickly the technology can record Holland's movements and turn it into a visualization of Spider-Man. Such a quick turnaround provides directors a ton of feedback on how a shot looks before handing the raw footage to post-production.
With so many characters likely to appear in Avengers: Infinity War plenty of these production photos should be popping up on social media. Keep checking into MCU Exchange for all the latest behind the scene photos as they hit the internet.
Spider-Man: Homecoming, starring Holland and Michael Keaton, hits theaters July 7th, 2017. Avengers: Infinity War starring Downey and Josh Brolin and a multitude of other, yet-to-be-confirmed stars comes out May 4th, 2018.
*Note: Spidey is not done filming just yet. They'll be heading to New York, as well as a few unknown locations before they wrap production.
Sources: RDJ's Twitter and Jon Watts' Instagram.