More Agents of S.H.I.E.L.D. Season 2 Bloopers Released

Season 2 of Agents of S.H.I.E.L.D. is currently available to own on Blu-Ray and DVD exclusively through Amazon. While no other outlets have given a release date, it has made some of the special features available to watch online. The video is unable to be embedded into the post but you can check it out by clicking on the link below
Source: Vimeo
International Ant-Man Poster

Ant-Man is still having its run at the international box office, which means that countries are still promoting the film. For us, that meant we got a brand new poster for the Chinese release of the film that features Ant-Man and Yellowjacket facing off.

Source: China Box Office
Behind The Scenes Look At Dubsmash Video

Team S.H.I.E.L.D. released their first of three dubsmash videos for charity two weeks ago. They made a spoof of Wrecking Ball which was spot on. Now, thanks to Clark Gregg, we have been given a behind the scenes look at the making of the video.
Source: Clark Gregg's Instagram
Jon Watts Confirms 15 Year Old Peter Parker

We are just under two years away from the first installment of the new Spider-Man franchise run by both Sony and Marvel. Peter Parker will make his MCU debut in Captain America: Civil War next year, but director Jon Watts is already working on his version of the character and confirmed his age.
I love the idea of making a coming-of-age high-school movie. We're really going to see Peter Parker in high school and get deeper into that side of it. He's just 15 now.
Source: Yahoo!
Snipes Still Wants More Blade Movies

Wesley Snipes has been very vocal about his desire to continue playing Blade, a character he hasn't played since 2004. He remains hopeful that something can be worked out between him and Marvel and insists that they continue to talk about the possibilities.
There's always a possibility, you know. It's in Marvel's hands. They're controlling the pace and the flow with that. Conversations have been good. They see the value in it. We see the value in it. I'm still in shape enough and fit enough to handle the role. We'll see how it goes. I don't really know what's going to happen to it yet.
Source: Huffington Post
Concept Art For Janet Van Dyne's Wasp Suit

Before Ant-Man hit theaters, fans were hoping that Wasp would show up in some capacity. They got their wish as Janet Van Dyne had a brief cameo in a flashback as well as the post credit scene where Evangeline Lilly's Hope Van Dyne gets her first suit. Now, artist Andy Park has released a version of Janet's suit he drew up during pre-production.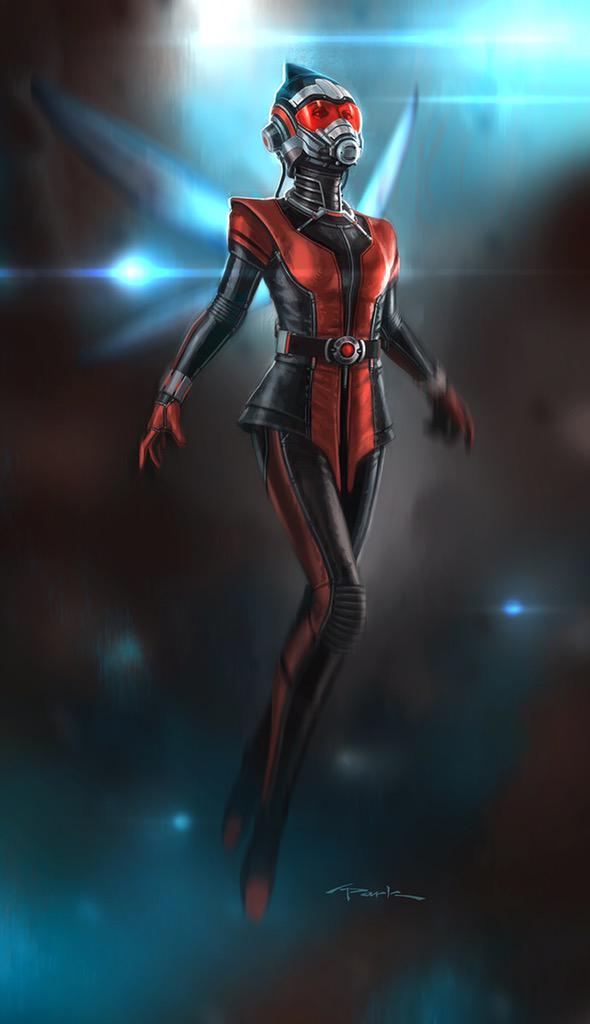 Source: Andy Park's Twitter
Team S.H.I.E.L.D. Recruits Supergirl, Deadpool, and Batman For Dubsmash

Team S.H.I.E.L.D. was back again this week for their second dubsmash video for charity. The video, which can be seen at the link below, begs the question of why the likes of S.H.I.E.L.D., Deadpool, Batman, and Supergirl can't all get along.
Source: Crowdrise
Former Director Thinks Spider-Man 'Belongs' In MCU

Marc Webb was the man who crafted the last attempt at a Spider-Man franchise with Sony's The Amazing Spider-Man. Now with Sony and Marvel rebooting the series, Webb is not bitter about missing out on the chance and is instead excited to see what can come out of it.
No, I'm very excited for all the folks at Marvel and what they're going to do with that character. I think he belongs in that universe and there's a real excitement to see what they come up with. Maybe we'll all be on a panel someday, Sam, me and whoever directs it.
Source: /Film
Behind The Scenes Look At Daredevil Season 1

As season 2 of Daredevil is under production, Marvel decided to share a behind the scenes look at the making of season 1. The video features the cast and crew talking about the show as well as some behind the scenes shots from filming.
Get a peek behind the mask with some of the people who make #Daredevil possible.

Posted by Marvel's Daredevil on Thursday, September 24, 2015
Source: Marvel's Daredevil Facebook
Secret Warriors Formation Will Take Time

It's no longer a secret that the Secret Warriors are coming to the MCU in season 3 of Agents of S.H.I.E.L.D. but it will be a long process for the team to form. It's been reported earlier but now TVLine has given us another quote about the team courtesy of Jeph Loeb.
Coulson's our director, and at the end of last season he tasked Daisy with trying to find Inhumans, or powered people, to put together a team to combat the rise of these other people out in the world. And that's a process. As you can imagine, it's one thing to find a person who has powers; it's another to find a person who has those skills and wants to be with you. So, the idea of putting together a Secret Warrior team over the course of the season seems like a noble goal for S.H.I.E.L.D., as they battle Inhumans.
Source: TVLine
Missed last week's pulse? Head over here to catch up!