Avengers: Age of Ultron Featurettes Show More BTS footage

As we near the Blu-Ray/DVD release for Avengers: Age of Ultron, Marvel has been releasing some teasers attached as special features. This week we got a behind the scenes look at the creation of Scarlet Witch and Quicksilver's powers, the transformation of Vision, and the Korean car scene.
Avengers: Age of Ultron hits Blu-Ray and DVD on October 2nd.
Sources: Marvel and CBR 1, 2, 3
Unused Iron Man Logos Surface

Iron Man kicked off the beginning of the MCU and with it, gave us an idea of what to expect from Marvel's logos. The logo used for Iron Man is a simple and clean look and ultimately has become the foundation for the franchise's logos. This week however, artist Fede Ponce revealed some of his proposed logos for the film, check out a few of them below.
Source: CBR
Luke Cage Gets Interesting Production Title

It has been a busy week for Luke Cage as the cast has started to take shape. Production has also started recently in new York, and with that we should hopefully get some set photos of Mike Colter and the rest of the cast on set at some point. Since production is ongoing, the production title for the show has been revealed. Luke Cage will be operating under the name "Tiara" which is quite the unusual title for the Power Man.
Source: Production Weekly
Joaquin Phoenix Addresses Why He Turned Down Doctor Strange

Even though Benedict Cumberbatch is now attached to be Stephen Strange, few of us will forget the long process that took place in order to find him. At one point, around 12 different actors were rumored to be up for the role including Joaquin Phoenix.
Phoenix was reportedly close to finalizing a deal to place the Supreme Sorcerer before talks ultimately fell apart. He addressed why he has shied away from doing big projects and franchises this week.
When I was younger I was probably a bit of a snob about that. But they've gotten better. I've flirted with several of those films, having meetings and getting close, but ultimately it never felt like they'd really be fulfilling. There were too many requirements that went against my instincts for character. I've been spoiled. I've never had to make those compromises.

I'm just trying to find what works for me. I don't want to commit to something and not fulfill those obligations. I enjoy watching those movies. Did you see the rebooted Star Trek? That kid Chris Pine who plays Kirk is f—ing genius. I just don't know if I want to have the experience of being in them. I've read some of those scripts and 75 percent is a description of some asteroid going through space.
Source: EW
Early Concept Art Of Vision

Andy Park has been doing concept art for Marvel for the past few years and does versions of characters and environments that will appear in the MCU. While Avengers: Age of Ultron was early in the planning stage, Park did the following design of Vision, which is slightly different than the final version which you can see above.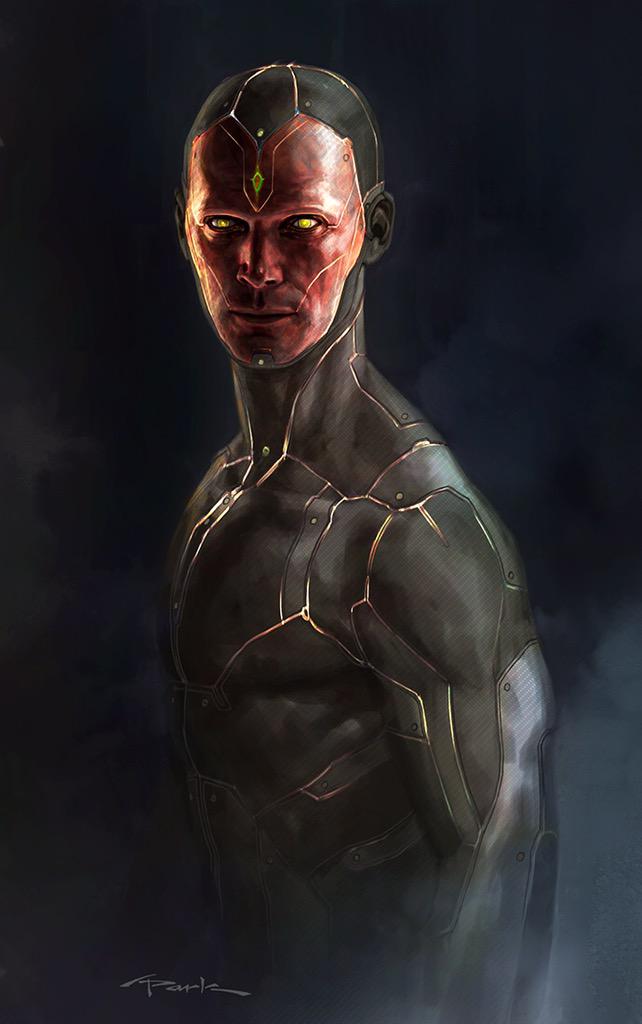 Source: Andy Park
Chris Evans Talks Team's Strength And Cap's Love Life

When new production art revealed Civil War team sides last week, one thing that stood out was how powerful Team Iron Man compared to Team Cap. Captain America himself Chris Evans spoke to MTV about his team's power and doesn't seem to think there is such a large gap in power between the two sides.
Do we? Well, maybe you'll have to see the movie to find out."
He also mentioned which of his "teammates" will be key players for him,
[Anthony] Mackie and Seb [Sebastian Stan]. I'll be in a foxhole with those two guys any day.
Cap has also not been so lucky with the ladies ever since he lost Peggy Carter (Hayley Atwell) saving the world. The movies have teased romantic interest between Cap and both Black Widow and Agent 13, but nothing has materialized as of yet. Even though he has not found romance just yet, Evans does think that it's something Cap wants.
Captain America, this is not a guy who knows what love feels like, he wants it, he thinks about it, he knows there's something missing, but it's not that he's ever tasted it.
Team Carter Kicks Off Dubsmash War For Charity

One of the best things to come out of the summer was the Dubsmash War that ensued between Team S.H.I.E.L.D. led by Chloe Bennet and Clark Gregg, and Team Carter led by Hayley Atwell and James D'Arcy. After a series of videos featuring cross-dressing and Captain America, the two teams have taken it to the next level having an all out war for charity. Team Carter started things off this week and recruited a famous Muppet to their side. You can check out the video on the official Dubsmash page (linked below).
Source: Dubsmash Wars
Muppets Beg Gregg For S.H.I.E.L.D. Spoilers

ABC is prepping for Agents of S.H.I.E.L.D. to start it's third season later this month and are also bring The Muppets back to television with a new series. They have started cross-promoting the two programs and it appears The Muppets, just like many of us, want to know some spoilery details about the show.
Source: Television Promos
Bernthal Teases Punisher's Weapons Vault

Jon Bernthal joined season 2 of Daredevil in early June and has since been spotted on set assaulting civilians and gearing up for battle. Yesterday, Bernthal showed us a behind the scenes look into the array of weapons Punisher will have at his disposal.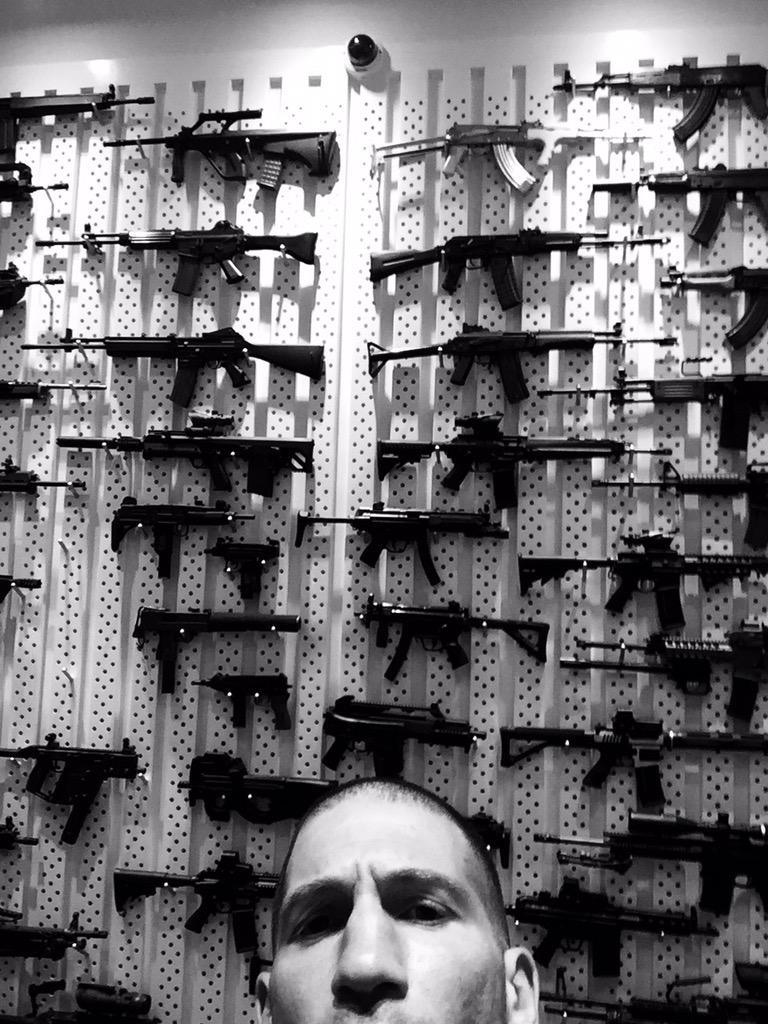 Source: Jon Bernthal
Marvel Still Not Sure How To Handle Iron Fist

When the news that Simone Missick would be playing Misty Knight in Luke Cage hit, Devin Feraci of Birth.Movies.Death. gave his always insightful take on what it could mean for not only Cage, but also potentially Iron Fist. He mentions that Knight could play a big role in Iron Fist, but that Marvel is having a tough time figuring out how to the show should be made.
Of course a lot of that could come down to the showrunners on the Iron Fist series, and I am told that Marvel still has not cracked that show. That's right, they're still trying to figure out what the hell they're going to do with Iron Fist. I wonder if Missick's contract just includes Iron Fist anyway, just in case.
Source: Birth.Movies.Death.
Tom Holland Shows His First Spider-Man Costume… Kind Of

Tom Holland signed on to be the MCU's Peter Parker/Spider-Man earlier this summer and was quickly thrown into action with a role in Captain America: Civil War. We have yet to see the new Spider-Man costume, but Holland gave us a look at his first Spider-Man costume as a child on Instagram this week.
Source: Tom Holland
Missed last week's Pulse? Head over here to catch-up!